How to Get Your 1st Game Design Job: Where to Apply & How to Increase Your Odds (Part 2 of 4)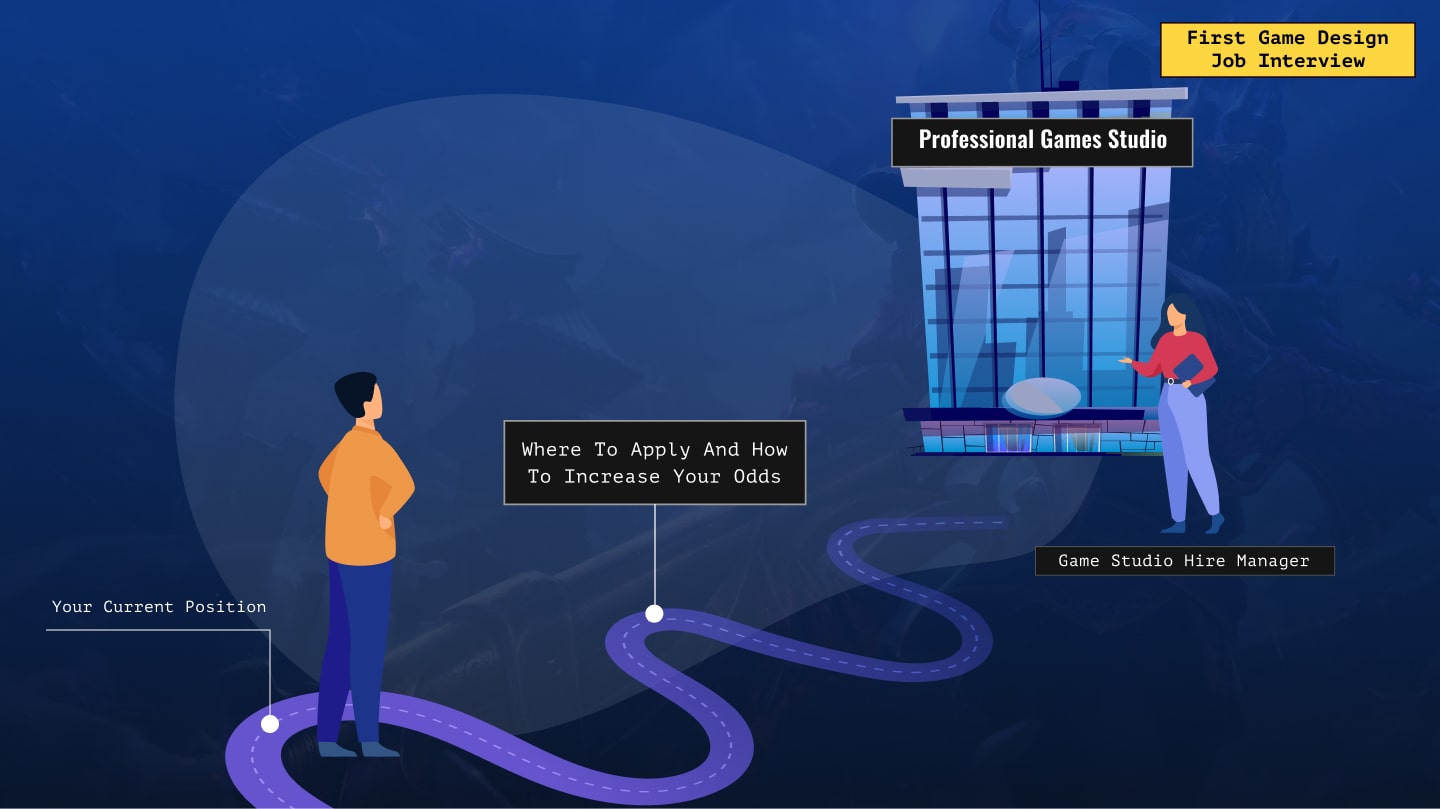 Mike Breese is a game designer working on Wild Rift at Riot Games, where he has worked on the Elemental Rift update, along with several champions, modes, and systems releases. Mike is also an alumni and a current instructor at Game Design Skills.
How to Get Your 1st Game Design Job: Where to Apply & How to Increase Your Odds (Part 2 of 4)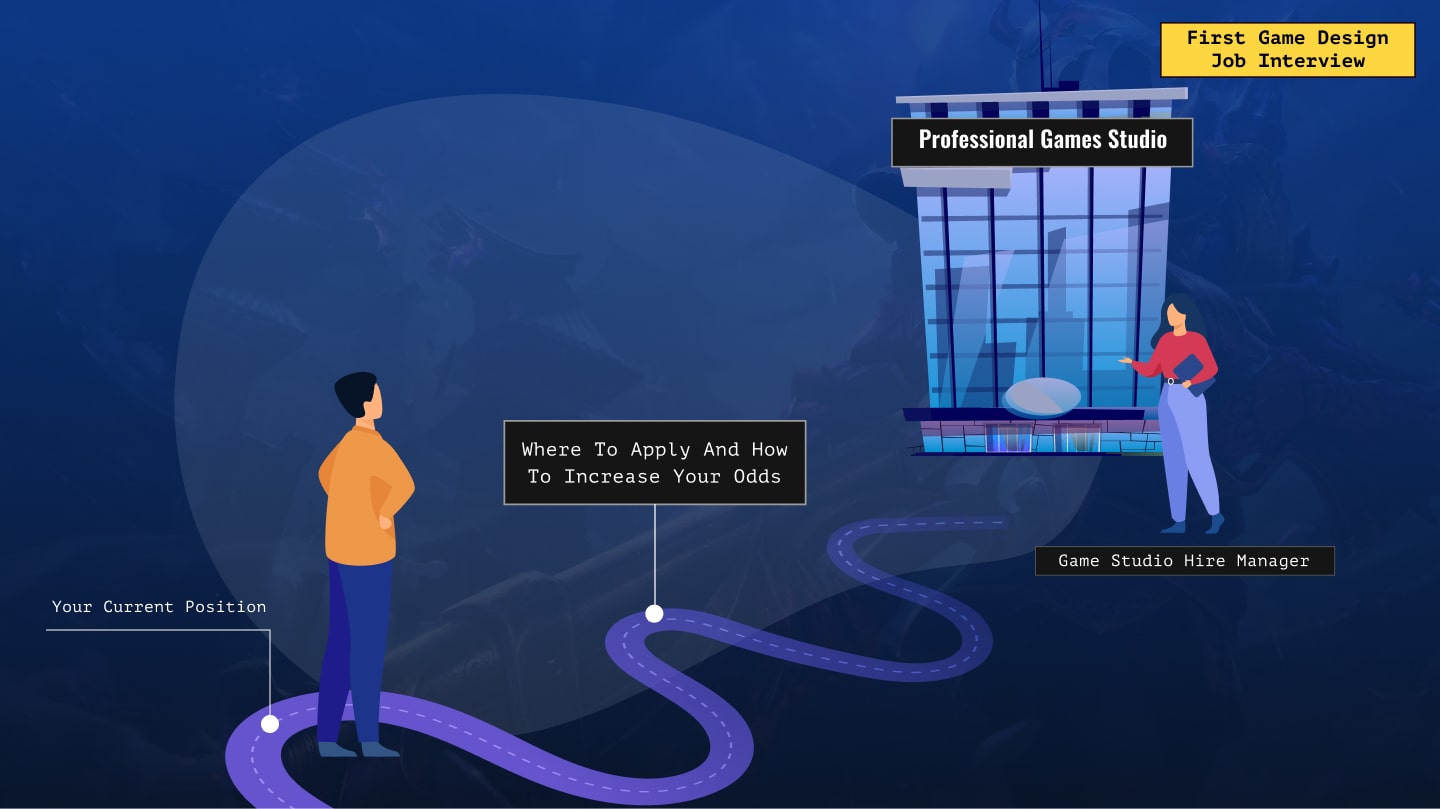 Mike Breese is a game designer working on Wild Rift at Riot Games, where he has worked on the Elemental Rift update, along with several champions, modes, and systems releases. Mike is also an alumni and a current instructor at Game Design Skills.
Last time we went over some starting points for your portfolio, resume, and cover letter. Now it's time to start looking at applying to game studios, learning from game industry veterans, and further growing your skills.
Let's review where in the series we are currently at:
Where to Apply and How to Increase Your Odds (Part 2 of 4) – this post
You can subscribe to the Game Design Digest to get notified when I publish the other parts of this series come out.
So without further ado, let's jump right in!
How to begin applying to game studios
When I started applying to studios I made the mistake of only applying to studios whose games I was actively playing. This severely limited my options, and all but guaranteed that I wouldn't ever break into the industry.
Once I expanded my search to local studios, particularly small ones, I found studios that were much more willing to give me a chance. This led to my first job in the games industry, and taught me the important skills that you can only get by actually being a game designer.
You might dream of joining your favorite AAA studio, but loving a studio's games doesn't mean you would enjoy working on them. Even if you would be a great fit, the studio likely gets hundreds of experienced applicants for each position, so you might never get the chance to prove it.
This isn't to say you shouldn't apply to the studio that makes your favorite video game. I just want to make it clear what the reality is here.
There are designers who broke into the industry by working on their favorite games, but it can be difficult. It's much more likely that you'll find a home at another studio, and that can be a much better fit. You don't want to limit yourself to just games you have 100+ hours in.
All that said, don't rule out applying because you don't meet every qualification. These are a wish list the hiring manager has made. They understand they aren't likely to find someone who checks every box, and it's possible you bring something to the table they didn't consider.
So you can definitely check your dream studio's careers page, and apply to anything described as "entry-level," "associate," or "intern" that catches your interest.
And if a mid-level role feels like an excellent fit for your skill set, apply to that as well. If a studio loves you they might be willing to take a risk, or change the position from mid-level to associate if the only thing you are lacking is enough experience.
But your search for your first game design job doesn't end at the career page for the game studios everyone has heard of.
The best approach for entering the game industry
So how do you break into the video game industry? Where should you apply? When starting out, the answer is really anywhere and everywhere.
When I first started applying I sent out over 100 applications, to local studios, big AAA ones, and indie dev teams. Many of these I didn't hear back from, but each one helped me tweak my application and better prepare for interviews.
This industry is far too difficult to break into, so as an aspiring game designer, you'll want to cast a wide net.
That said, use your time wisely by applying only to positions that match your skill set and experience level, not every game design job you see.
In fact, many studios have a "cool-down period" after a rejection before you can reapply. Sending out hundreds of half-assed attempts is not just a waste of the studio's time; it can activately hurt your efforts.
Cast Zen Meditation to reduce damage and improve your job application success.
Instead, choose your job postings wisely, and treat each application with respect by giving it the time it needs so you can be happy with your application.
Before applying to a studio, spend a little time looking them up and getting a feel for who they are. Read their website, forums, social media, and/or employer review sites like Glassdoor to learn about their culture and philosophy.
Use this info to guide your application. Rule out companies that seem like a poor culture fit, and focus more on places that make you excited to work there. Adjust your resume and cover letter to better reflect these shared values.
What to expect from a game design internship
Many studios hire interns with the intent of offering a full time position if the intern turns out to be a good fit, so this can be a great way to break in.
Associate positions and internships are all about learning and building your skill set as you help the team. You are not expected to be an expert, but you are expected to be a quick learner and be eager to help out.
It is unlikely you'll be guiding the design on a feature, but you likely will be building content or doing work given to you by your lead or senior designer. Learn everything you can from the team, and ask for their input and feedback whenever you need to.
Don't get discouraged if you don't get to do everything you want during your internship. I have heard from many teams that it often takes around six months for a new hire to start adding a lot of value or take over part of the game.
Indie games and mobile games
Don't just apply to large, well-known studios. As I've said above, these are hyper-competitive positions. Do apply for the best matches, but don't limit yourself to AAA developers.
Smaller studios are often overlooked, so there is much less competition for game jobs there. As an added bonus, you will likely grow your skills much quicker at an indie studio, and have a lot more freedom and control over your contribution to the game design.
Smaller studios are more likely to post their applications on Twitter, in local meetup groups, or on their website. This makes these opportunities trickier to find, but you can do some online digging to find smaller studios in your area, or browse Steam for studios that make games that match your experience and interests.
Many smaller studios just have a general "apply here" page instead of listing open positions. If you want more info before applying, you can reach out to the company or its outward-facing employees directly through social media. Even if there are no current opportunities, you might make a connection that remembers you later on.
Similarly, mobile games are often overlooked in the West. While the market for mobile games is huge, the number of people applying to these positions is much smaller.
The required skill set and type of work is largely the same, so take advantage of this when hunting for your first game job.
Location
While there are a few major game development hubs, there are studios all over the world. Game Dev Map is a great, regularly updated resource for finding game design studios based on location.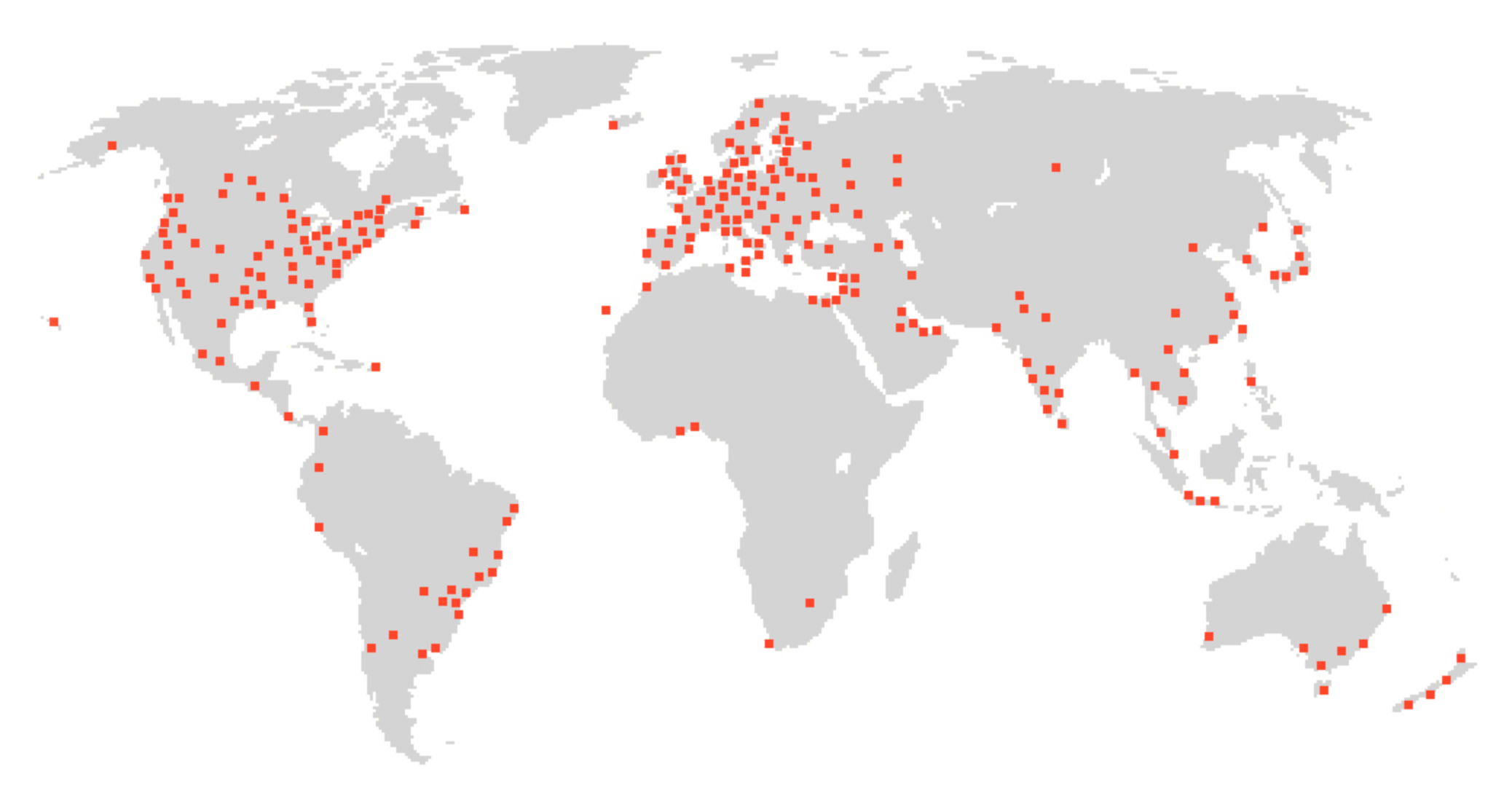 Many smaller studios have fully remote staff, so don't let your location get in the way.
Also keep in mind that as a beginner, honing your craft and gaining relevant experience is much important that getting the ideal job as the ideal studio. As you get better, your options start to increase.
Growing your skills and industry connections
Reach out to contacts or developers on social media. Many people in game dev love to talk about their work, as much as they're allowed to. So if they have a public presence on social media then feel free to reach out and ask about their work or about any openings they might know about.
The Twitter game developer community is a great place to find job listings and developers who are always happy to chat. LinkedIn can be great too.
Just know that not every developer is aware of open positions, and if you don't hear back right away don't take it personally. Also make sure you aren't harassing anyone who hasn't made themselves publicly available, or who doesn't show interest in responding the first time.
Another option would be to reach out to your local International Game Developers Association (IGDA) chapter. This is a great chance to make contacts who might need help on a personal project, have an opening on a small team, or can advise you on your own game design work.
As you reach out to people, you'll make more game industry connections that can help you find work when something opens up.
Learning through hobby work
If you find that you haven't yet developed the skill set you need to get hired, then you still have options. Local or online game design hobbyists are well worth looking into.
Many people first get into game development as a hobby, and you can do this on your own. But part of the development process is working with other people, and learning how to work as part of a team.
Don't expect to make a massive pile of money, or even the promise of shipping a game, doing this. Making your own games in your personal time is a great way to develop skills, but it's not likely to turn a profit.
But do be careful about anyone trying to make money off you. Just because you are new doesn't mean you should be working for someone else for free.
Recommended supplemental reading:
If you're reading this post, then you're most likely looking to get in the industry. Here are a few posts that dive into the fundamentals that I recommend you to checkout.
What is Video Game Mechanics (Beginner's Guide)
How to Become a Video Game Designer
How to Write Game Design Document with Examples
How to Make a Game Design Portfolio (That Works)
Now it's time to apply
Once you have found a position, adjusted your resume and cover letter for it, and made sure your portfolio is up to date, it is time to apply.
If you saw the job opening on another site like LinkedIn or TikTok, I recommend checking if the job is listed on the company's website and applying directly through that. This listing should have the most up-to-date info in case something has changed or a position has been filled.
Make sure to include everything they ask for, and send a cover letter even if they don't explicitly require one. (The worst case scenario is they just ignore it.)
Some studios will ask why you are applying to them, or what makes you special. Use this as an opportunity to share a little more about yourself, without repeating your cover letter (though it's okay if they're similar).
Hearing Back And Following Up
Hearing back can sometimes take a while, and will always take longer than you wish. If you are lucky, you'll hear back from someone wanting to chat about the next steps in about a week. But you should also be prepared for a rejection, or for not hearing back at all.
If you haven't heard back within two weeks, it is perfectly okay to send a follow-up message asking for a status update, but don't take it personally if you still don't hear back. It's possible that someone is on vacation, or that they haven't reached out to candidates yet.
If you still don't hear back after one follow-up message, then it is best to move on.
Next Steps
All right, so you have polished your resume, picked up new contacts and design practice, sent out applications, and finally heard back about the next steps. Congratulations! This is where the interviewing starts.
In the next article, I'll talk about preparing for interviews, what to expect, and how to handle rejection and feedback.
If you have any questions or feedback, please comment below. I'd love to hear from you!
[Free] Game Design Training
Learn how to practical get hired as a game designer, but faster!
Start