Over the last twenty-five years, I've been fortunate enough to tackle both design and production roles. Both are important to the success of a game, but they are very different from each other.
It's easy to explain what artists and programmers do on a project. Their work is front and center in the game itself. The efforts of designers and producers can sometimes be harder to see.
I've even heard the phrase "What do producers actually DO?"
If you're thinking about a career in production or design, it's worth understanding what each role does as well as the differences between the two.
You'll likely find that one or the other is better suited to your temperament, personality, or skillset.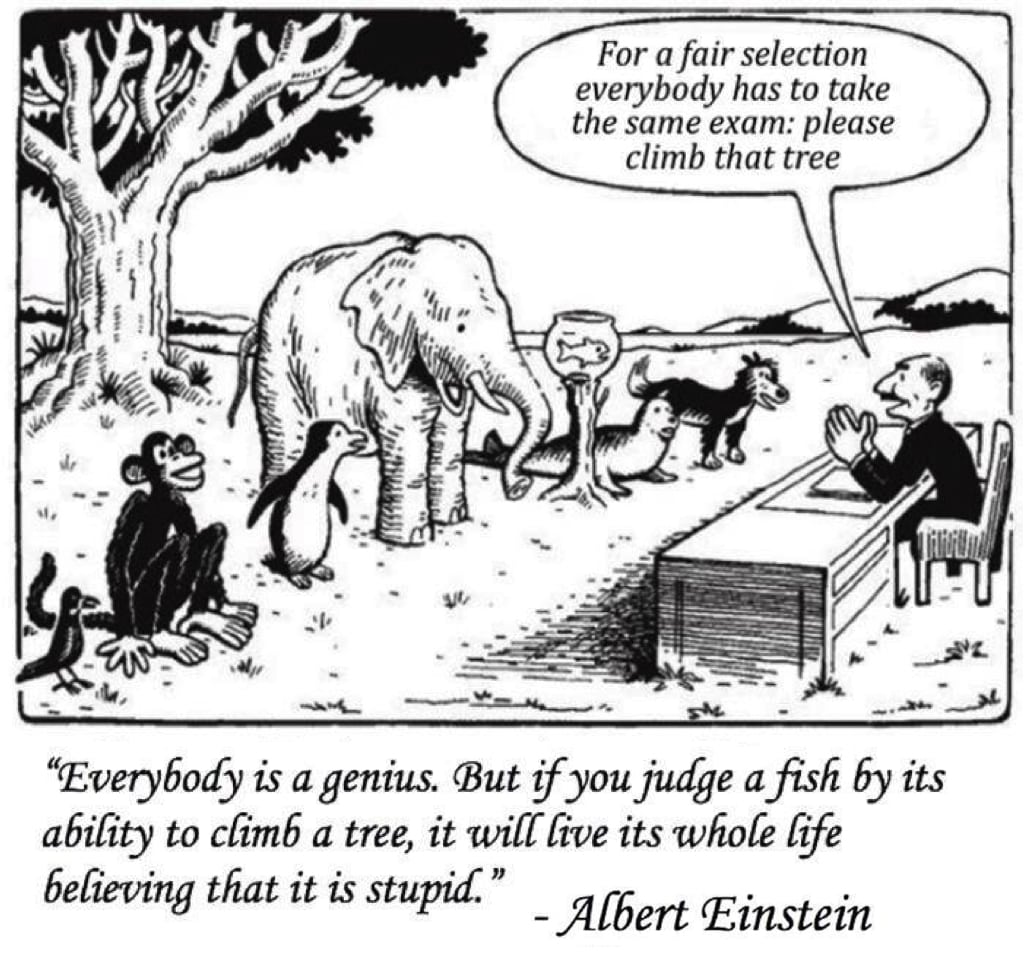 By the way, as you read this post, feel free to join #career-guidance channel in Funsmith Club Discord where you can seek advice from game devs of all levels on
Breaking into the industry
Your resume/CV, Portfolio, design skill test, interviews, negotiations
Navigating your current career path
You can also get notified each week on the latest game design job listings and actionable tips here 👇
With that said, let's first clarify the difference between the two disciplines.
What do Game Designers do?
Designers are responsible for mechanics, systems, and content
"Game designer" can refer to a variety of different roles such as
A designer might be a more hybrid role as well – for example:
An art-savvy user interface designer
A code-savvy technical designer
An animation-savvy combat designer
What a designer does day-to-day varies a lot depending on the type of game it is.
A platformer will need levels created and jumping mechanics tuned.
A role-playing game will need quests and enemies designed.
A puzzle game will need a variety of game mechanics created.
A designer's job requires plenty of communication with teammates. Good designers understand that iterating a system will require lots of back-and-forth with the programmers making it.
Designers protect and advocate for the game's vision
Though a game always changes during iteration and development, a project that starts with a clear vision is more likely to succeed.
Typically a project owner or group of leads will define the initial vision. Part of the job of designers is to be good advocates for that vision during development.
As a game springs to life, everyone on the team will be offering their feedback throughout the process.
Great ideas can come from anyone on the team, but not every suggested solution will be aligned with the core vision. It's in those moments that good designers can help.
Clearly understanding the core vision, and being able to explain why a particular element of the design supports it, will help the team get past misalignments and move forward.
Staying in sync with a game's vision will also help designers with their tasks. You wouldn't implement a difficult math puzzle if the core vision is "a nonstop action-movie experience."
What do Game Producers do?
Producers are responsible for project execution
A producer's job is to keep the project moving forward. Clarifying deliverables for the team, unblocking blocked tasks, and calling out risks are all key responsibilities for a producer.
Good producers are problem-solvers, looking out for misalignments on the team that could affect the schedule or roadmap.
They will revise the schedule to account for iteration. They're also on the front lines of helping the team sort out dependencies between departments.
Production roles look very different from studio to studio
In the past, a lead or executive producer was often "the boss" – typically making many of the final decisions on a project, in collaboration with a game's director.
These days, while producers may still be part of a team's leadership, most producers view their job as a service role.
When I've worked in production, the question I constantly ask myself is "How can I help the team do their best work?" This might translate into filling gaps on the team.
On any given day, producers might jump in to help with a QA pass, assist in onboarding new employees, or help marketing pull together materials for a pitch deck.
Producers help define the process
With so many dependencies in software development, larger projects need some degree of process.
Regular meetings need to be scheduled; task-tracking software like JIRA needs to be set up and maintained; asset pipelines need to be documented.

A simplified example – tracking a project using Trello.
Producers spend a lot of time moving these cards around.
Every team is different. The same processes won't work for every group or every phase of a project.
Like everything else in game development, processes need iteration. Good producers will remain flexible throughout a game's life cycle.
That said, balance is needed.
Common mistakes producers make in the pursuit of minor efficiency improvements – I've made them myself – are:
Switching tracking software too frequently.
Modifying regular meeting schedules too often.
Teams need to feel there's a foundation under them to do their best work. Changing processes too often can be more disruptive than helpful.
Striking the right balance between changing things up and leaving a less-perfect process alone comes with experience.
Where do the two jobs overlap?
Both require good communication skills
Neither design nor production is a good career track for someone who wants to "fly solo" and work in a more isolated way.
So communication with the team is a key part of both jobs:
Designers need to be able to clearly express ideas, both in initial design documents and when working with other departments. They're often on the front lines of collecting team feedback.
Producers need to make sure processes are clearly understood by the team. When a feature falls behind, they need to surface that to other departments and help make adjustments.
Designers and producers often work hand-in-hand
In the early days of a project, designers and producers will need to spend a lot of time getting on the same page.
A clear vision is crucial to a project's success, and design plays a huge role in fleshing out an initial vision statement.
Many pipelines, such as building art assets or localization, start with design. Lists of enemies, designs for mechanics, and dialogue scripts all have many dependencies after they're created.
Typically, producers will want asset lists from design as early as possible, while designers will want to hold them back to allow time for iteration.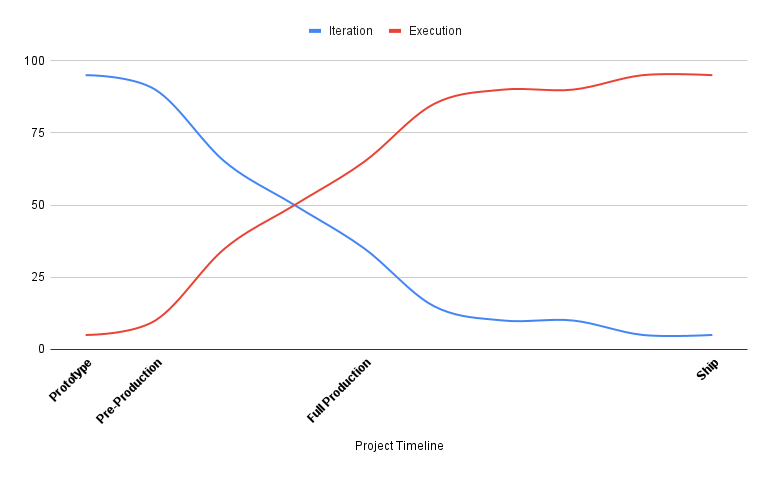 A healthy project life cycle. During the prototype phase, there's more time for iteration.
Identifying the right compromises between creativity and the demands of the schedule won't work if design and production aren't talking.
A producer's job becomes more important in the final months leading up to the ship date. A good partnership with design is key, ensuring what's being shipped matches the design's intent.
So… which role is right for you?
Consider a design path if:
Making a great game is the most important thing to you.
You like working hands-on with the game and directly creating content, systems, or narrative.
You are good at coming up with creative, innovative solutions to design problems, without letting previous decisions or the schedule weigh you down.
You like collaborating directly with programmers or artists to implement a vision.
You're okay with taking lots of feedback and iterating on your work based on comments from the entire team.
Consider a production path if:
Shipping a great game is the most important thing to you.
You like helping others do their best work, regardless of your role.
You're able to think strategically about a project's development.
You're good at identifying risks and dependencies.
You can clearly communicate the dependencies and risks to the team.
You can handle an unpredictable daily workload.
You have a great sense of organization.
You can roll with your carefully-constructed schedule getting torn up and tossed out every month or two.
Learning and Career Resources
For Game Production:
GDC Game Production Keynotes:
For Game Design:
Final thoughts on game design vs game production career paths
Both design and production are fulfilling careers in game development. Each job, at any level from assistant to lead, will have opportunities to move a game forward and make it great.
My design experience helped make me a better producer; similarly, when I was a designer, a "production mindset" helped me stay focused on the core vision for a game and better prioritize tasks to account for dependencies.
While designers are focused on a game's vision and producers on the schedule and execution, being attuned to both will make you better at either job.
Game development strikes a balance between the two; each needs good advocates for a game to be successful.
That said, these two career paths are very different in terms of what your day-to-day will look like. In my case, I was more comfortable in a production role, and the work was more fulfilling.
And that's the most important takeaway – for a long and successful career in game development, it's important to enjoy what you do.
Hope this helps you choose the right career path.